» Concept art; what it is.
Concept art; what it is.
I think some of you may have misinterpreted what Concept art is; so here's Wikipedia's definition

Concept art is a form of illustration where the main goal is to convey a visual representation of a design, idea, and/or mood for use in movies, video games, animation, or comic books before it is put into the final product. Concept art is also referred to as visual development and/or concept design. This term can also be applied to retail design, set design, fashion design and architectural design.
I wrote an essay on some concept artists for college recently(Which I'll upload if anyone wants it), and in researching it I thought it was really cool.
I'll post bits of it to show some work I really liked;


Here's a comparison of some concept artwork of the iconic bus stop scene in My Neighbor Totoro (1989). The image on the left was probably created early on in development, as the storyline must have influenced whether there was one or two of the children there. But we can see how close this artwork is to final shot. This must have been a bold image in Miyazaki's head and it proved it's worth as it's such a memorable way to communicate this scene.


Another of Miyazaki's showing this setting from Spirited Away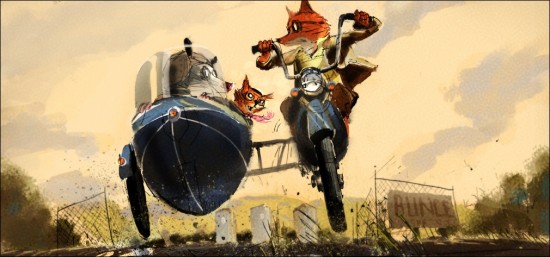 This artwork was by Chris Appelhans, I love the work he did for Coraline, that takes his interpretation of Tadahiro Uesegi's artwork and builds his ideas about the styles and textures and colours.
It's awesome

Any of you guys got some favourite artists you've been looking at?
Oh! I forgot to mention Ross Stewart, who did concept art for The Secret of Kells, go look it up, that film looks like nothing else!
Edited By: Marc_H
Jun-13-10 14:48:11
Administrator has disabled public posting
Re: Concept art; what it is.
That's a good clarification Marc about what concept art really is. I really like those sketches, sometimes a sketch can really do wonders for getting your ideas down quickly from your head without spending too much time on details. It adds a more spontaneous kind of animatic as opposed to trying to make perfect pieces of art each time. I think that's where a lot of people make the mistake of spending too much time on parts you won't see in a film.
Administrator has disabled public posting
Re: Concept art; what it is.
wow I love the concept also I already knew the hio miyazakie (i think thats how you spell it) so It was nice to see what it was in development anyway great thread I really dont use concept art but its A possibility I may in the future
great it was very inspirational
Administrator has disabled public posting
Re: Concept art; what it is.
Marc, i totally agree, it's frequently dismissed as soon as the animation begins, it's easy to get tunneled in the technical aspects of perfomance & loose sight of the spontanious first impressions the concept art gives. I love going to the http://characterdesign.blogspot.com/Character Design blog (did i do the link right?) Character Design blog, they feature the best of the best and really go indepth with the artists. It's fun to play detective and see what traits and aspects of their initial concepts make it thru to the final character and performance.
-S
Administrator has disabled public posting
Re: Concept art; what it is.
Thanks, season! One of my tutors from college had showed me that blog a while ago and I completely forgot the address of it. That would have come in handy back when I was writing that essay

I've got to say I kind of like the unfinished look of the artwork, it's cool to be able to see exactly what they wanted to show straight away.
Administrator has disabled public posting
Re: Concept art; what it is.
Hey all. At the designing visuals of my pre-production of my first animated short film. There are only 2 characters, and this my first pic I have "put together" of the main character named "Murphy". He is based on a certain member of the geek/podcasting community, but I can't say until I secure his permission.
Administrator has disabled public posting
» Concept art; what it is.